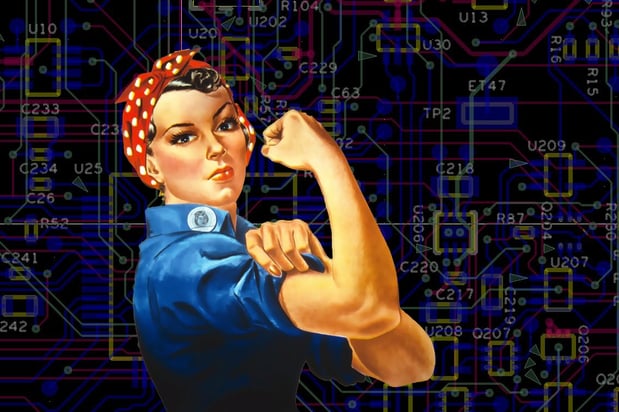 What does the future of technology look like for women?
This is one of the many big issues we cover in our brand new technology podcast – The Vine Resources Podcast Show – in which we scour the corners of the tech, media and telecoms industries, sharing knowledge, opinions and stories from the big hitters and business leaders around the world.
In Episode One we talked to global telecoms company Vodafone about their female diversity initiatives as well as the challenges and opportunities for women in technology.
As well as being one of the leading telecoms companies globally, Vodafone are known for their commitment to women, both within Vodafone and around the world.
Not only does Vodafone plan to bring mobile technology to an additional 50-million women by 2025, but they recently launched the world's largest recruitment programme for women on career breaks.
Speaking to Catalina Schveninger (Global Head of Resourcing) and Maria Ursu (HR Business Partner), we found out all about the steps they are taking to empower women in the technology industry.
Vodafone started their women in technology initiative four years ago. It started small, consisting of a small number of senior women across the company sharing their experiences and mentoring and coaching the more junior women. Yet in four years it transformed into a community of 1500 people across the world. And it's not just the women who are advocating for the benefits and rights of women. The men of Vodafone are also taking the lead and supporting women across the board.
Through this initiative, Vodafone have managed to create a sense of purpose and belonging for many women. It is their mission to empower women across the tech industry to fulfil their potential and achieve great things.
Vodafone achieve this in three different ways:
Attraction. A key goal of Vodafone is to go out and tell their story, positioning Vodafone as a strong and diverse employer in order to find and attract skilled women that are interested in technology. Vodafone have a number of programmes designed to achieve this end, including a graduate programme to attract university students and their reconnect programme which helps women on career breaks find work.
Development. Helping their female employees to develop internally, in order to build the skills of the future and get them to coach each other and build on each other's strong points.
Engagement – A key challenge for Vodafone is employee retention. What can they do to retain female staff and help them see their career grow within Vodafone?
Progress is being made but there are still many barriers for women in tech. Their aim is to see 40% of leadership positions filled by women, a goal which they have not yet realised. Through research, training and a variety of other means, Vodafone are working to tackle the root causes of bias and inequality in technology and business which are holding back full equality and diversity for women in tech. There is still a long way to go but Vodafone have come a long on their journey and are destined for fantastic things in the future.
To hear our full interview and learn more about exactly what Vodafone are doing to promote female diversity within tech, download our Women in Tech podcast.

---