Technology has come a long way in recent years - with some fantastic new innovations that going forward will help transform businesses.
Artificial intelligence (AI) has the ability to transform the way we do business, and how recruitment will look in the future.
So what are the latest innovations in artificial intelligence?
Digital assistant
Hyundai revealed an in-car digital assistant at CES 2018, which could improve safety when driving.
The voice enabled AI will be able to respond to voice commands to make phone calls, get directions, turn on the AC, and even send texts. The future could be that it can take and send emails whilst you concentrate on driving.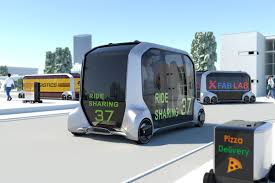 The next step in driverless deliveries
Driverless cars are moving ever forward to becoming an everyday reality. Ocado trialled its first driverless van in London in 2017 and Domino's trialled driverless vans for pizza delivery in the US in 2017. At CES 2018, Pizza Hut and Toyota revealed a driverless pod which could deliver pizzas, so it's only a matter of time before we see these on the streets everyday.
This has the potential to revolutionise business as it moves forward with smart deliveries, and reduced driver requirements.
Accessible artificial intelligence for businesses
AI is currently the plaything of the big corporates; Google, Amazon and Microsoft are key players, who dominate innovation in the tech industry. However, Cloud AI is developing at a fast pace now, which will bring AI to a much wider business audience.
As this develops, making it cheaper to use AI in everyday business, it could become more widely available which will open doors for businesses to become a lot smarter in how they work.
Smart cities
Although it's very early days for smart cities, the ideas behind the technology could revolutionise urban centres of business.
The latest effort, Quayside in Toronto, is in the planning stages. The project aims to use sensors to collect data around activity, noise and pollution levels, whilst all vehicles will be driverless shared pods which people can hop on and off.
AI would replace postal workers, so robots delivering mail and completing other routine tasks would become the norm.
Although a lot of these innovations are still way off completion, the future is clear: AI technology is here to revolutionise the world of business.
---