When a bin can learn to use Twitter, have we reached peak technology?
But that's exactly what's happening in cities around the world, thanks to technology company Enevo who have provided internet connection for bins in Finland, the Netherlands, UK, Belgium, Canada and the US. If you thought Donald Trump's tweets were bad, these ones are literally rubbish, sending insights out to the world such as "I am 69% full" or "I expect to be at full capacity on Wednesday."
Our cities are becoming smarter, and this is just one example among thousands of how our public services, infrastructure and buildings are working together using integrated Internet of Things (IoT) and artificial intelligence technology to make our lives easier. With millions of sensors embedded in roads, sewers, water pipes, streetlights and everyday household objects, we are being propelled forward into a new era of connectivity.
Smart cities are the future, but there is no smart city without smart people.
This infographic from Postscapes looks at the anatomy of a smart city, and the technologies and systems that are needed to make them a reality.
What is the future of recruitment?
And how will both recruiters and job seekers benefit from the changes?
This short eBook on the future of technology and recruitment will give you all the answers you need to future-proof your recruitment process.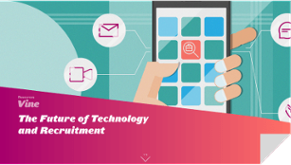 ---