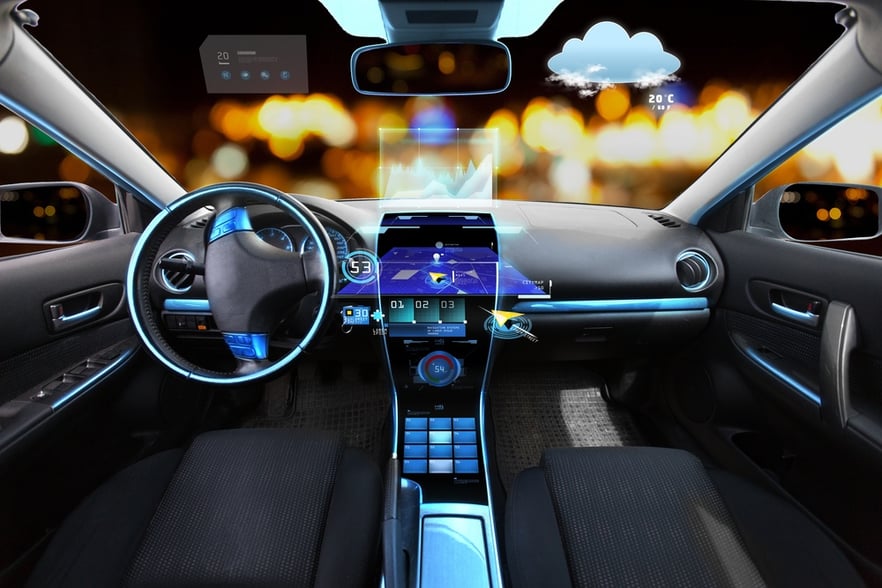 The drive to create fully autonomous cars has never been hotter.
The US plan to invest $4 billion into the self-driving vehicle industry over the next 10 years, and Tesla have just announced that every new vehicle currently in production will be created with the full capability for autonomous driving.
The rise of driverless cars will have an extraordinary impact on businesses and workers. For a start, employees will gain extra hours of productivity in the morning and evening which would otherwise have been spent commuting or stuck at a standstill in traffic. For organisations, self-driving vehicles could replace corporate fleets for deliveries or transporting employees, potentially saving them millions.
The driverless car industry will be huge, and hard-to-find technological competencies in this area are growing in demand.
Autonomous Driving
What does autonomous driving really mean? And how will it be implemented?
The change won't be an immediate one, but rather a very gradual process. The National Highway Traffic Safety Administration (NHTSA) have defined the five different levels of autonomous driving we will go through before reaching the ultimate goal of completely self-driving cars.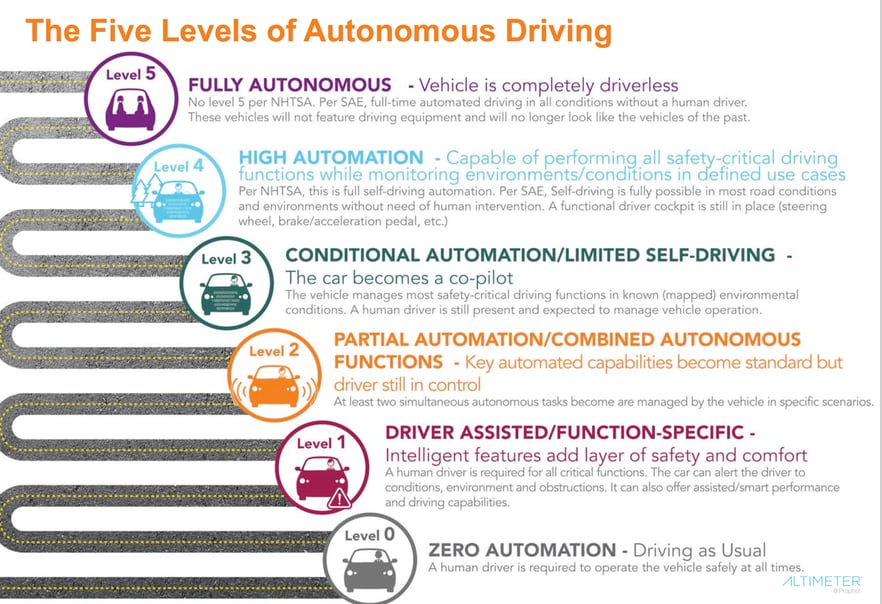 Level 0: Zero Automation
As usual, a human driver is required to operate the vehicle safely at all times.
Level 1: Driver Assisted/Function Specific
A human driver is required for all critical functions, while intelligent features add a layer of safety and comfort. The car can alert the driver to conditions, environment and obstructions. It can also offer assisted/smart performance and driving capabilities.
Level 2: Partial Automation/Combined Autonomous Functions
Key automated capabilities become standard but the driver is still in control. At least two simultaneous autonomous tasks become managed by the vehicle in specific scenarios.
Level 3: Conditional Automation/ Limited Self Driving
The car becomes a co-pilot, managing most safety-critical driving functions in known environmental conditions. A human driver is still present and expected to manage vehicle operation.
Level 4: High Automation
The car is capable of performing all safety-critical driving functions while monitoring conditions in defined use cases. Self-driving is fully possible in most road conditions and environments without need of human intervention. A functional driver cockpit is still in place (steering wheel, brake/acceleration pedal, etc.).
Level 5: Fully Autonomous
The vehicle is completely driverless. Full-time automated driving in all conditions without a human driver. These vehicles will not feature driving equipment and will no longer look like the vehicles of the past.
It's clear we have a long way to go before we reach peak autonomy, and the question of whether we will ever achieve a fully autonomous driving infrastructure – and if so when? – is still very much up in the air. One thing is for certain, the driverless car industry will only get bigger. Companies around the globe are already striving to align their business models accordingly, including hiring highly sought-after and low-supply talent in this area.
The future of TMT recruitment (technology, media and telecoms) is beginning to look very different indeed.
What else does the future hold in store for recruitment?
And how will both recruiters and job seekers benefit from the changes?
This short eBook on the future of technology recruitment will give you all the answers you need to future-proof your recruitment process.
---