As more businesses are moving to remote working, the recruitment process has also been digitalised. Using technology such as video calling and online meeting software, it is possible to remotely conduct interviews for new members of staff.
As this is a relatively new process, it might be daunting if you are not familiar with how to go about remote hiring.
In this guide, we will explore the various ways you can ensure success when recruiting new employees.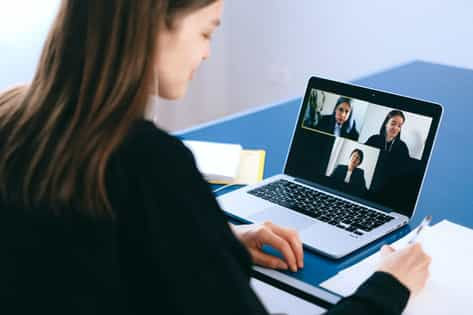 1. Be specific in your job description adverts

When looking for qualified candidates, it is also important to ensure that they have experience of remote working. Specifying this can sift out any unsuitable candidates before the interview stage.

2. Plan your questions in advance

The questions that you ask a potential new employee are important in any interview. However, they can be even more important during video calls as you will be less able to get a sense of their body language. Ensure your questions are comprehensive and specific.

3. Collaborate with your colleagues

Several heads can be better than one when it comes to remote hiring. By interviewing as a panel, you will get a wider range of impressions of the candidates.

4. Conduct multiple interviews with each candidate

Unlike hiring someone in person, it can be more difficult to truly get to know someone via online video conferences. Therefore, conducting follow up interviews and splitting the recruitment process into structured stages can help to find the right candidate.

5. Consider their transferable skills

Discipline, self-motivation and a proactive personality are all essential qualities for any employee who will be home-based. During the recruitment process, you can set tasks to gauge how strong these skills are.

6. Enlist the help of a specialist recruitment business

The expertise of specialists can really help you to find the ideal candidate to fill your vacancies so that you can focus on other areas of your business.
Good luck!
(Please feel free to share this article with others by using the social icons at the top of the page!)
---