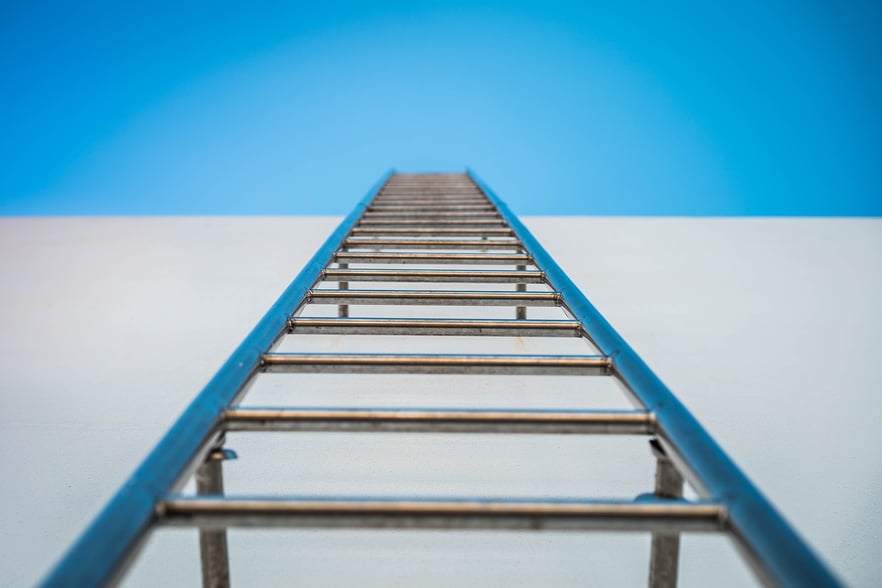 Stuck in middle management? It's time to break out.
If you're stuck in a career rut and looking to move forward, you are not alone. There are currently five million middle managers in the UK today, 10 times as many as 100 years ago. So why aren't they moving up? The truth is, the difference between middle and senior management is intimidating – one is management and the other is leadership. Add to that the fear of the unknown, the stress, the workload, and it's easy to see how many people end up staying in the same position for so long.
Most managers today hold positions for 1.5 to 3 years before changing to another job, but many in this situation have already gained the key skills and leadership potential to move up to the next rung on the career ladder..
Are you ready for that next career step? Here are a few tips on how to finally break out of middle management.
1. It's not what you know, it's who you know
One of the most powerful tools to accelerate career growth is networking. It is crucial in building long-term relationships within companies. If you're ready to move on up, networking could be the key to doing so.
Find out what networking or socialising events are happening within your company, whether it's a bar crawl or a conference – anything in which you can engage with HR or senior management. It's important you tell them exactly what you want and what you're looking for.
Before you attend a networking event, prepare yourself. Know your purpose. Don't just network for the sake of networking as you will not only waste your own time but other peoples' too.
You can use any occasion to network, even standing in line for a coffee. Engage in conversation as often as possible. That new opportunity could be just a smile away…
2. Show off your skills
What makes you the right candidate for the role?
As a senior manager, you will be a leader. Therefore, you must prove you can motivate and inspire the rest of the team. How do your current lower team perceive you as a manager? Are they engaged, happy and motivated team members? If not, perhaps you don't have the requisite leadership skills for senior management just yet. But don't worry, these skills can be learnt and developed.
3. Be ready
When the moment you've been waiting for arrives, know what you're getting into and be prepared.
Senior management comes with extra hours, extra responsibilities and probably a lot more stress. Long-term business goals will be put into your hands and it's up to you to make sure they're followed through. A lot more traveling may be on the cards and so you'll have to think about whether you can handle a completely different work/life balance.
Moving up too quickly could potentially put your career at risk.
4. Seek other opportunities…
So, you're stuck in middle management with no way to move up. What do you do? Leave!
There are plenty of other opportunities out there, millions of companies with the same or similar roles. You can always look elsewhere. An important thing to consider before applying is to look for a company in which you have the potential to grow.
If the current company you're working for can't provide you with the role you want, there's no reason why they can't give you a great recommendation.
Don't resign yourself to being stuck in middle management. There are many ways for you to progress in your career if you have the drive and ambition to do so. Consider all these points as you make the next step in your career.
Take care not to assume that your years of experience will carry you forwards. The business landscape is constantly changing, and you should be always evaluating your skills and adapting to developments in your industry.
By creating a plan, setting some personal goals and giving yourself a timeframe, career progression should naturally follow if you put the effort in.
For our more in-depth guide to breaking into senior management, check out our eBook: Stuck in Middle Management? It's Time to Move Up!
---