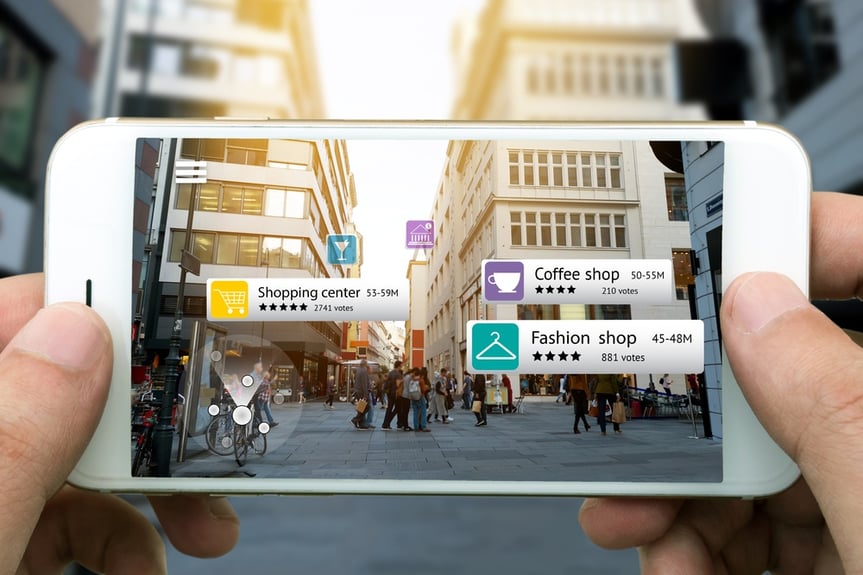 As if Facebook hadn't already made enough of an impact on our lives and the world in general, the little-known social network is now set to actually change the way we perceive reality.
CEO Mark Zuckerberg announced last week at the annual F8 developer conference that Facebook will be bringing augmented reality straight to the phones of billions of users round the world.
In 2014, Facebook generated a lot of buzz around virtual reality when it invested in Oculus. Now, nearly three years later it has generated similar levels of excitement around augmented reality as it launches its AR Camera Effects developer platform.
What is augmented reality?
Augmented reality is a technology that superimposes a computer-generated image on a user's view of the real world, creating a composite view of the digital and the physical.
Zuckerberg outlined three categories of AR:
Information – Overlaying information on the real world (e.g. directions over the street in front of you)
Digital Objects – Adding digital objects onto the real world (e.g., a virtual post-it note on the fridge)
Enhancement – Enhancing real objects with reviews, novelty filters, edits, etc.
Initially, the Camera Effects platform will only be available on smartphones, but it is designed to eventually be compatible with future AR hardware such as eyeglasses. While affordable AR glasses are years away and won't enter the mainstream anytime soon, everyone has a camera phone and a Facebook account, so this new launch has the potential to reach a huge demographic and make waves in the technology market.
An open platform
This isn't just going to be a new Snapchat, allowing users to add hilarious filters to their faces or seductive cat ears for your Tinder profile picture. This will be something altogether much bigger and much more significant to the way we will use our phones, and other devices, in the future.
One of the most surprising developments is that while other apps like Snapchat have been keeping their AR creation tools to themselves, Facebook is creating an open platform for developing augmented reality experiences. According to Zuckerberg, "all developers can work on [the open platform] so that way you don't just have 10 or 20 effects but you have thousands."
Developers can apply to gain access to the closed beta of the platform's AR Studio tool, enabling them to use precise location, object recognition and depth detection to create their custom effects.
Opening Camera Effects up to developers allows Facebook to offer a much wider diversity of experiences. And crucially, it gives the platform a much wider scale without having to build everything itself. Facebook might not be responsible for creating the next big, game-changing augmented reality app, but at least it will happen on its platform. Giving away its technology for free is the price it will pay for that to happen.
The future of augmented reality
Zuckerberg's vision of an AR world is one that is moving away from hardware and towards software and services. His grand vision sees augmented reality as an "economic equaliser."
"The ability to just have glasses or eventually contact lenses where you can overlay whatever information you want…[means] we could put a TV on the wall and have it be a $1 app instead of a $500 piece of hardware that a lot of people can't afford. So if the glasses cost $500 or whatever it is, you're saving a ton of money compared to all the other hardware that you would have to buy."
While Snapchat might have had a headstart in bringing AR to consumers, Facebook has just mapped out how it plans to take augmented reality several steps further.
AR glasses are a long way off right now, but when they do arrive they could be one of the great transformational technologies of the next 50 years.
Augmented vs. virtual reality – which one will succeed?
The future of virtual reality is bright, says Michael Abrash, Oculus Research's chief scientist, but it has one key weakness compared to augmented reality. "No matter how good VR gets, few people will be comfortable socialising with someone's eyes they can't see, and social acceptability is an absolute requirement for anything we wear in public."
As it stands, augmented reality is ahead of virtual reality, which is just stepping up to the plate. VR is still far away from being the great thing for social encounters in a virtual world, but it is getting there.
It is looking like the future, for now, lies in augmented reality.
The future of technology recruitment
The growing VR/AR industries are leading companies around the globe to strive to align their business models accordingly. As a result, there is much more demand for certain technological competencies in these areas. The future of TMT recruitment (technology, media and telecoms) is beginning to look very different indeed.
What else does the future hold in store for recruitment? And how will both recruiters and job seekers benefit from the changes?
This short eBook on the future of technology recruitment will give you all the answers you need to future-proof your recruitment process.
---