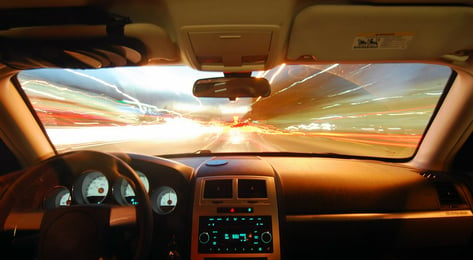 It's only a matter of time before we're all living in Elon Musk's terrifying dystopian vision of the future.
Yet for all his fear-mongering about killer robots and humans becoming irrelevant, the man has some big plans for technology in years to come.
Just last week at TED 2017 the increasingly omnipresent technology entrepreneur announced his plans to develop a system of underground roads beneath Los Angeles, with the potential to expand across the US and beyond.
Musk's new urban tunneling business – The Boring Company – will allow cars to travel at 200km/hour underground, cutting journey times across the city dramatically.
Cars will enter and exit the tunnel network on elevators built into the road, entering a system very similar to that of the London Tube network. The cars would then drive off the platform and another would get on to be returned above ground.
Musk said that he was inspired to consider a tunnel system to alleviate congestion because he found being stuck in traffic soul-destroying.
"Traffic takes away so much of your life, and it's particularly horrible in LA. There's no real limit to how many levels of tunnel you can have. You can eliminate any arbitrary level of urban congestion with a tunnel network."
The following video demonstrates how the tunnel system would work:
The one thing holding the project back is the cost and speed of boring this enormous tunnel system. While the vision is to have no limits to the amount of tunnels, there remains the challenge of finding ways to cut the cost of boring and to speed up how quickly such tunnels could be created.
"We have a pet snail called Gary, and Gary is capable of moving 14 times faster than a tunnel boring machine - so the ambition is to beat Gary," said Musk.
But if tunnelling is such a slow and costly process, why go under the ground? If a network of underground superhighways populated by autonomous vehicles is within the realms of possibility, why not focus efforts towards creating driving technology that allows cars to soar above the earth?
According to Musk tunnelling has huge advantages over flying cars.
"There's a challenge of flying cars – there'll be quite noisy, the wind force generated will be quite high. And with these things [flying] above, it's not an anxiety-reducing situation. You'll think, did they service their hubcap – or will it come off and guillotine me?"
Whether this vision will become a reality in the near future is uncertain, but changes in the way we drive are very much in progress. According to Musk we will see the first fully autonomous car cross the USA unassisted by the end of 2017.
The driverless car industry is booming, and companies around the globe are already striving to align their business models accordingly, including hiring highly sought-after and low-supply talent in this area.
Find out how the future of technology recruitment is changing in our short eBook. Just hit the download button for all the answers you need to future-proof your recruitment process!
---