The Project Management Officer (PMO) is a strategic role within an organisation with prime responsibility for the success of many key initiatives within the business.
The individual needs a good business mind, be able to 'helicopter' from strategic to tactical tasks, be able to multi-task, detail-conscious and be a great communicator.
If you are looking to hire a PMO, then the following questions might help you get the right person!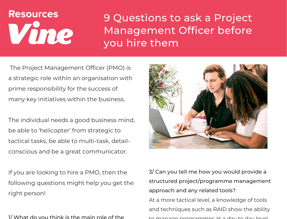 Download the questions here!

Good luck!
(PS - don't forget to follow us on LinkedIn & Twitter for more content on how to hire more effectively!)
---