After another remarkable year, we hope you are taking some well deserved time off with your loved ones over the seasonal break. But what will you do with them?
Check out our tips for fun, easy and cost effective activities that all the family will enjoy!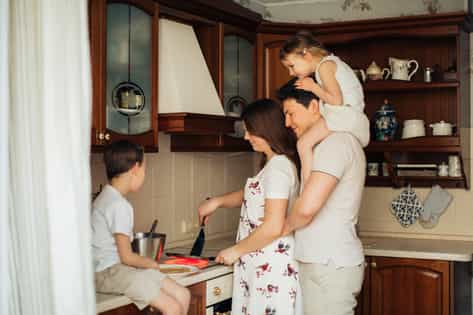 1/ Bake some cakes
Baking is easy, fun and can be quick. From Cup cakes to brownies, flapjacks to carrot cakes, a couple of hours spent baking and bingo - you have your own home made treats!
Many of the recipes are straight forward and one great point is that you may have many of the ingredients in your kitchen already (flour, milk, water, sugar etc) so a quick trip your local shop for any specific ingredients and you are good to go. Of course, if you have little ones in the house, be sure to supervise them around the more dangerous elements in the kitchen.
2/ Play board games
Clear the decks and get those old board games out! Chess, Monopoly and Backgammon are firm favourites but also don't forget card games and puzzles. Hours can fly by when you are engrossed in jigsaws, crosswords and the like and this type of brain activity is great for the wellbeing of all the family.
3/ Paint
From the youngsters painting by numbers, to the adults trying water colours, there is a style of painting for everyone. Basic painting kits are very cost effective to buy and there are heaps of tutorials on line at sites like YouTube. Who knows, you may discover a new Van Gough in the family!
4/ Work out
You dont need a gym membership to work out, just a clear space in the house (or in the garden) is fine - and get the whole family involved! Gentle burpees, squats, push ups, hopping and running on the spot can easily be the basis of your own family work out program. If you happen to have skipping ropes, hula hoops and any balls already in the house, they can easily be incorporated to make your work out even more fun!
5/ Go for a walk
One of my favourites, a good old fashioned walk. Even walking from your house, you will probably notice things you have never noticed before and you may well bump into neighbours you have never chatted with before. Even better if you can get to some green space, a park or some fields and walking by water can have a terrific calming effect.
6/ Have an outside picnic
Wrap up well with hats, scarves and gloves, get the picnic blanket out and get outside for a picnic! It can be at your local park or even in your back garden. Take your favourite snacks and a flask full of a hot drink for that warming effect. Be brave, be adventurous, get out there and enjoy!
7/ Create a mood board
Anything goes when you make a mood board. Get a large piece of paper and some magazines, take a look through and get snipping and gluing whenever you see something that catches your interest. For adults, it can be more about emotions, feelings and relationships, for youngsters more about friends, activities and hobbies.
When finished, don't forget to share and talk through your boards with others - its great to share thoughts and ideas and this is as important as the task itself.
8/ Read a book
There is nothing better than settling down on the couch with a good book. Fact, fiction, autobiographies, politics, children's and adult's, the list of types of books available is endless. If you dont want to keep purchasing books, join your local library.
Going to the library is a fun activity in itself and many are thriving by offering lots of other types of local community activities - why not go and check them out!
Have a great time!
---