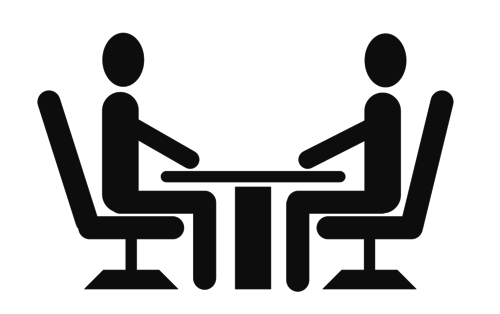 Hiring staff is one of the most crucial job roles that any business owner faces. Achieving the best results in this arena can help shape the entire future of a company. It's a process that can be broken into several stages, but there is no question that the interview carries greater importance than any other.
The interview is the perfect opportunity to assess a shortlisted candidates suitability for the role. A winning CV is all well and good, but this is where employers can gain real insight. However, it's equally important for bosses to paint a positive picture of the company too. After all, over 95% of all interviewees say that the interview has a huge significance on forming their opinions of the business.
Therefore, it's imperative that you conduct the process in an efficient manner. Here are five top tips to help you on your way.
Understand The Employee's Requirements
Before doing anything, you need to appreciate that the interview process isn't just for you. It's an equally crucial step for the candidate, as agreeing to any potential offer will change their career and life forever. Therefore, you need to know that they see what they want to see.
There's a good chance that you've invested time and money into building your shortlist of potential employees. It would be very foolish to let those endeavours go to waste. Building a suitable interview environment is pivotal to your hopes of gaining good relationships from the start. After all, if you do recruit an applicant, you'll be wanting to grow that connection throughout your future endeavours.
As an employer, you demand that candidates make a great first impression. Don't be fooled into thinking that they don't want the same from you. Just remember that the way you dress and conduct yourself plays an integral role too.
Have Direction
Thorough planning is the key to success in many aspects of business. This is particularly true when it comes to the recruitment process, especially in interviews. As an employer, this is your best opportunity to assess whether a candidate is right for the role. However, it will be impossible to do this if you don't at least know what you're looking for.
It's not enough to simply know the vacancy. You should be fully equipped with a profile of your dream employee. Only then will you be able to tailor your process accordingly. This isn't only crucial for yourself, though. Research suggests that over one in three interviewees feel that they've faced irrelevant questions. This can make them feel alienated while it also shows a clear lack of preparation on your behalf.
Failure to prepare is preparation to fail. Make sure that all questions and tasks are geared towards judging a potential employee's suitability, and you should be just fine.
Access The Full Package
When you take on a new member of staff, you are investing in them as a package. It's not simply a case of finding someone with the right skills. You need an employee that will settle into the team and enhance the quality of your team as a whole. As such, using the interview to assess personality is a must.
Their CV and other application details have already provided insight into their abilities. The interview is an opportunity to elaborate on those elements. This is particularly useful when dealing with their experience and history. However, it's equally vital that you pay attention to their human characteristics. After all, you aren't hiring a fancy CV; you're hiring a person.
Conducting behavioural assessments will offer a better understanding of applicants. This is vital as you need to be sure that they will produce the goods. Personality traits such as ambition will have a telling influence on their long-term performances. Likewise, you should be eager to recruit people that will have a positive effect on the rest of the team. Whether that be through great leadership skills or a winning personality doesn't matter. Aim for candidates that will genuinely enhance the productivity and atmosphere. You will not regret it.
Be Clear
From your perspective, it's imperative that you find a candidate that offers exactly what you are looking for. However, you shouldn't forget that the employee needs to know this is the right job for them too. Building a better environment for the interview itself is great, but it's only the start en route to success.
The last thing you need is to see a new employee quit after a few weeks because the job isn't what they thought. This eventuality would signal a huge waste of time and effort. Moreover, it will leave you needing to go back to the recruitment process. Candidates should have completed their own research into the business. But you must also make it your responsibility to give them all the necessary information.
Do not be vague about the company or the specific role. Meanwhile, you should always make time to field any questions that a candidate may have. Information is vital, and making mistakes in this aspect could easily lead to making the wrong appointment. Ultimately, that could set your progress back badly.
Don't Forget Post-Interview Elements
Whether an interview goes good or bad, you should always look to conduct yourself in a winning manner. Quite frankly, this should include offering feedback to all candidates. This is something that almost every interviewee expects, and it's good practice to do it.
This is especially important when dealing with someone that you're considering. Even if it's a case of letting them know that you need a little time to assess other candidates, it's polite to respond within 48 hours. Leaving it any longer could suggest that you aren't that interested. It might also damage the vibe that you've elicited.
You mustn't forget that people will tell others about negative experiences with the company. Providing feedback, even for those that didn't do enough to impress you should be mandatory. Once this has been done, you can concentrate on completing the acquisition of those interviewees that did stand out.

​
Source: Vine 4
---