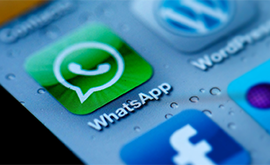 Since their inception, OTT messaging apps have caused a headache for mobile operators. In their golden age, messaging was one of the pillars of operators' revenue streams. With the advent of free OTT messaging apps however, operators have begun to lose revenue and struggled to claw it back from other areas. Now that OTT messaging is pretty ubiquitous, operators are finding new value in these troublesome apps but how long can these new relationships last?
According to a report by Juniper Research, revenues from the mobile messaging market are set to decline over the next few years. This is mainly due to the growth of OTT messaging apps. As these free apps steal customers from SMS and MMS messaging, the overall revenue of the market will dip. One question that many analysts are asking is "where will OTT players find revenue growth?" While customer numbers for OTT providers are skyrocketing, revenue growth remains slow. In the past some companies have looked into placing adverts in their apps or offering in-app purchases to generate more revenue. For the most part however, this has been met by reluctance from customers. For this reason a lot of OTT providers are looking to diversify their offerings and leverage their brand reputation in new areas.
One recent development is that a few OTT companies are starting to move into the lucrative area of mobile payments. While it is still too soon to tell how successful this diversification is going to be, no doubt OTT providers will be watching the likes of LinePay and SnapCash very closely with a view to mirroring their offering if they are successful. While there are a number of options open to OTT companies, they are all too aware that they need to keep their existing customers happy by continuing to offer and improve their messaging apps and for this, they need the co-operation of the operators.
Network speed and security is increasingly becoming a major concern for consumers using OTT apps. With the app makers having no control over this, the majority of them are now looking to cultivate relationships with operators to ensure that they give their customers the level of service they demand. In addition, being able to boast of having the fastest and most secure operation available will help steal customers away from slower, less secure competitors.
This has been good news for the operators who have jumped at the chance to work with OTT app makers and offer their customers a real value add by partnering with them to make exclusive offers. In addition, smaller, more agile companies like start-up OTT app makers are born innovators, they have the ability to move into and create new business areas with relative ease. Large, unwieldy operators on the other hand are not born innovators. On the occasions when operators have tried to go toe to toe with OTT apps, they have been entirely unsuccessful. What operators do have however is a huge customer base, brand awareness and (by no means least) their networks. A solid partnership will give partners the best of both worlds and allow both OTT messaging apps and operators to grow their customer base.
The mobile messaging market and the relationship between OTT providers and operators has changed dramatically over the past few years. Far from trying to outdo each other, they are now working together in mutually beneficial partnerships. OTT providers will almost definitely still need to find new revenue streams and diversify their business models but instead of working against them, I expect that operators will watch closely to see if these new areas can be exploited to add yet more value for their customers.
Source: Vine 9
---