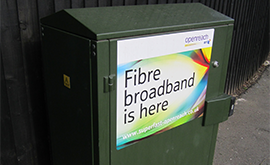 As part of their dark fibre proposals, Ofcom has said that BT should be forced to allow competitors access to its fibre network. This is a result of the regulator's belief that throughout the UK (with the exception of Hull and London) BT holds an uncompetitive advantage in the fibre network market. This announcement has caused uproar across the UK telecoms market with a number of companies coming out in support and opposition. Whatever Ofcom decide to do at the end of the consultation, it will have knock-on effects across the sector.
Ofcom's consultation period will end on 31st July with their final decision on the matter being announced in early 2016. Any outcomes are likely to be implemented by April 2017. So far BT have opposed the move saying that they do not consider themselves to have an unfair advantage and that opening up their network would put ISPs that do not have the capacity to deploy the technology at a significant disadvantage.
CityFibre and Virgin Media have also spoken out against the move. Both companies have spent a great deal of money in setting up their own fibre networks. While these networks come nowhere near rivalling the size and scale of BT's, if Ofcom does force BT to open their network to competitors, CityFibre and Virgin Media will find themselves not only with increased competition but also with an expensive network which cost a great deal of money to set up but gives very little in terms of advantage in the market place.
A major concern amongst telecoms companies in the UK is that if nothing is done and BT's proposed acquisition of EE goes through without a hitch, BT will have the biggest network of mobile masts and the biggest fibre optic network in the country. It will be hard for other UK operators to compete against a company with such a clear advantage in both mobile and fibre networks. If however BT accept Ofcom's requests and do open their network to competitors, there are many who suggest that the regulator might allow the EE acquisition to go through without delay.
The question for BT to consider is whether they want to just accept Ofcom's recommendations with a view to focussing on their new mobile acquisition or fight it and risk having to make concessions on their acquisition of EE.
Source: Vine 9
---