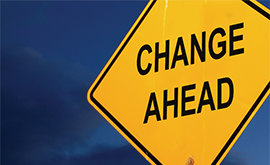 The telecoms industry is changing and the speed of that change is increasing. It seems that not a week goes by without a new piece of technology or service offering being announced somewhere in the world. How best to keep up with the constantly evolving market has long been a topic of great debate amongst those operating within the telecoms industry.
While companies do their best to adapt to changes in the industry, there are still a great deal of older systems and technologies being used. Integrating these legacy systems and networks with newer processes and technologies is now becoming increasingly difficult and some simply aren't coping. With companies now realising that something must be done if they're to maintain their market share, we are seeing a sharp rise in hiring for change and transformation staff across the telecoms sector.
In the past networks were built on a variety of different platforms and technologies. As industry standards have emerged, companies have been forced to change their operations to adhere to these standards whilst continuing to meet the needs of their customers and make a profit. In addition, the convergence of telecommunications, media, technology and IT has meant that telecommunications companies are now competing against a number of new organisations in a number of new areas. To compete with these smaller, niche offerings, larger telecommunications companies need to expand into new areas and tweak their offerings to give their customers the same level of service as these new competitors. All of this has to be done whilst maintaining profitability.
It is not just telecoms companies that are seeing the need for change and transformation professionals either. Communications and technology are now pretty ubiquitous across all markets. Adapting to changes in these areas is becoming increasingly important to businesses whatever industry they're in. As sectors such as mobile payments and machine-to-machine (M2M) technology grows, we expect to see businesses across all sectors looking to hire change and transformation professionals to make the most of their operations, create market differentiation and offer great customer service.
The sudden increase in hiring is not only down to the evolution of the telecoms market, but also an increased understanding of the value of having a change and transformation professional or team on board. Maureen Whilby, a Senior Business Change Manager at a market leading telecoms company explained this new found understanding by saying: "After the recession people pulled back from a lot of projects and programmes but the vast majority of the cuts were to the perceived 'softer' subjects such as change and transformation. Now companies are beginning to realise that their cut backs may end up costing them money. Systems have been implemented with no way of measuring ROI or the effectiveness of the change. In many cases poor change management has resulted in a lack of understanding or buy in from staff across the business."
Whilst there can still be a number of misunderstandings about the role that change and transformation professionals play in delivering key programmes, more companies are beginning to understand the additional value they bring. Whilby went on to say: "Businesses need change to build and grow. However, the benefits of these changes need to be embedded across the board. Business are now finding that this is near impossible without a dedicated change and transformation resource". These teams enable staff at all levels to understand the change and what it means for them and their business. In addition they add value by calculating ROI and change effectiveness so that the benefit of the changes being rolled out can be fully realised.
With more companies now beginning to realise the importance of change and transformation management, we are finding that companies are looking to hire people that have experience at the highest level rather than taking a risk on those that have the skills but not the experience. Some larger companies such as Microsoft, KPMG and Capgemini have now started hiring in-house teams to offer professional change and transformation across their client portfolios. Creating dedicated change consultancy teams sends a strong signal to their consulting clients that they have the expertise to support challenging and long term transformation programmes.
Over the next year we expect to see a continued increase in change and transformation hiring as more and more businesses see the value of investing in this area. Whilby agrees with this sentiment saying: "Business owners and senior management need to own the change and work with change and transformation teams to deliver real business benefits. The good news is that this is better recognised in more and more businesses". In future we expect to see change and transformation specialists becoming more popular especially amongst larger businesses.
Source: Vine 9
---