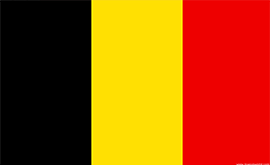 This blog is the first in a two part series about living and working in Belgium. It gives a broad overview of the country and information on what it is like to live there.
At Vine Resources we place skilled telecommunications professionals in exclusive roles with some of the biggest operators, vendors and consultancies around the world. This means that we often have roles available which give skilled professionals the chance to live and work abroad. To help you decide whether working abroad is for you and whether an individual country will meet your personal circumstances and requirements, we will be putting together a collection of blog posts about living and working in some of the countries that we operate in.
Belgium is a federal state situated on the North Sea coast. Its immediate neighbours are France to the southwest, Luxembourg to the southeast, Germany to the east and the Netherlands to the north. The country is divided into 10 provinces and 589 municipalities with Brussels as capital. Belgium has three distinct areas which are often talked about due to their different languages and customs; Flanders, Wallonia and Brussels.
The Flemish Community in Flanders and parts of Brussels speak Dutch whilst those in Wallonia and parts of Brussels speak French. In addition to this, there is an area in east of Wallonia where the inhabitants speak German. All three are recognised as national languages and most Belgians speak very good English.
Travel
Belgium has a very effective transport system and is well connected to a number of European countries by air land and sea. Given its status as unofficial capital of Europe, Brussels is particularly well connected to all major European cities.
Air
Belgium has four major airports: Antwerp (which has a modest number of flights to and from London), Brussels National Airport (Belgium's main international airport), Charleroi (About 55km south of Brussels at Charleroi), Liège (Located at the city's former military base, Bierset).
Flights to Belgium from London cost from as little as £100 return depending on when you fly and where you fly to and from. Live flight prices can be found at skyscanner.com or a similar websites.
Flight times to other major destinations:
Paris – 55mins
London 1hr
Zurich – 1hr 10
Manchester – 1hr 15
Bristol – 1hr 20
Copenhagen – 1hr 30
Edinburgh – 1hr 40
Dublin – 1hr 40
Rome – 2hr
Madrid – 2hr 15
Delhi – 7hr 55
New York – 8hr 30
Beijing – 10hr
Land
The Eurostar connects London and Brussels with ten trains per day Monday to Friday, and seven per day on weekends. Fares include travel on to any train station in Belgium (the Eurostar arrives in Brussels where you can stop or continue on to Bruges, Ghent or any other station at no extra cost). Eurostar tickets start from £69 return.
There are a number of coach companies that offer coach trips from London's Victoria coach station to Belgium. On average trips take around eight hours and cost around €70 for a return ticket. You can also make the most of Belgium's well connected road network and drive. Driving from London to Belgium takes just over 5 hours but may take longer depending on the ferries and local traffic.
Sea
Various car-ferry services exist between Belgium and the UK. Ferries travel from Zeebrugge or Ostend in Belgium to Hull, Ramsgate or Rosyth in Scotland. Ferry schedules vary widely according to seasonal demand. Depending on the route, ferries can take between four hours and eighteen hours and cost upwards of €120 return.
Accommodation
Buying and renting in Belgium is significantly cheaper than in most of the neighbouring countries but property in population centres such as Bruges and Brussels is understandably more expensive than other areas. Below are rough estimates for accommodation in Belgium.
Buying
Price per Square Meter to Buy Apartment in City Centre - €2,614.71
Price per Square Meter to Buy Apartment Outside of Centre - €2,108.95
Renting
Apartment (1 bedroom) in City Centre - €656.25
Apartment (1 bedroom) Outside of Centre - €555.56
Apartment (3 bedrooms) in City Centre - €1,113.51
Apartment (3 bedrooms) Outside of Centre - €930.88
Hotels
A single room in a hotel in Bruges is upwards of £40 a night
Single occupancy room on AirBnB starts from £30 a night
Private property on AirBnB starts from £60 a night
Cost of living
Food
Lunchtime menu in the business district - €16
Combo meal in fast food restaurant (Big Mac Meal or similar) - €7
1 litre of whole fat milk - €1.04
12 eggs, large - €2.64
500g of local cheese - €7
2 kg of potatoes - €1.90
0.5l domestic beer in the supermarket - €1.34
1 bottle of red table wine, good quality - €8
2 litres of Coca-Cola - €1.79
Household goods
Utilities 1 month (heating, electricity, gas ...) for 2 people in 85m2 flat - €158
Internet 8MB (1 month) - €32
Hourly rate for cleaning help - €9
Transportation
1 litre (1/4 gallon) of gas - €1.49
Monthly ticket public transport - €50
Taxi trip on a business day, basic tariff (5 miles)- €19
Entertainment
2 tickets to the movies - €20
Dinner out for two in Italian restaurant with wine and dessert - €65
Cappuccino - €3.09
1 month of gym membership - €69
1 package of Marlboro cigarettes - €5.40
Useful information
Important numbers
Police – 101
Fire Brigade/Ambulance - 100
Holidays
Belgium has 10 official bank holidays. They are:
January 1st
Easter Monday
May 1st
Ascension Thursday
Whit Monday
July 21st (Belgian national holiday)
August 15th
November 1st
November 11th
December 25th
Keep an eye on our Facebook, Twitter or LinkedIn accounts or subscribe to our blog feed to make sure you don't miss part two of our guide to living and working in Belgium.
Living and working in Switzerland – Part I
Living and working in Belgium – Part I
Living and working in Belgium – Part II
Living and working in the Netherlands – Part I
Living and working in the Netherlands – Part II​
Source: Vine 11
---