It's that time of year again, the kids have broken up from school and you face weeks of trying to keep them happy and out of mischief.
Fear not, we have some great cost-effective ideas for you that will keep you sane and your kids occupied!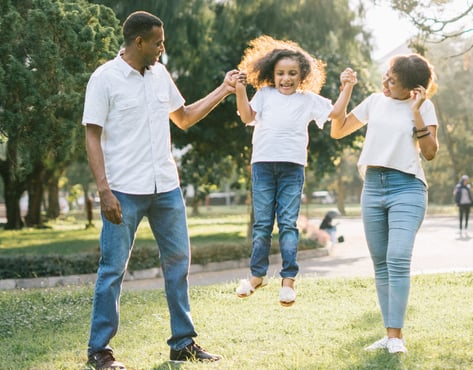 1. Spend a day at the park
I think parks are underestimated. Local councils generally do a great job of keeping the grass in trim and many are adding more and more facilities each year. On a sunny day, a visit to a nearby park is great fun.
For example, my local park has a pond with ducks, a paddling pool, a playground, an outdoor tennis table, a skate park, an outdoor fitness gym, a nature trail, a Japanese garden and a cycle path - far too much to do in one day! So get out there for a great day full of family activities!

2. Hit the beach
Kids love nothing better than digging in the sand, making sandcastles and an ice cream at the seaside! It might be a bit of a trek for some but could be worth it for a full day of adventure.
Don't forget, if there is also a local harbour, crabbing will keep them entertained for hours and is very cheap. Head out with a picnic to your local spot or discover new ones where you can swim, fish in the rock pools or even find a beachside fun fair to amuse yourselves.

3. Visit a farm
Whether it's a local farm or a well-known attraction, taking the children to spend some time with farm animals is magical. They will love stroking the rabbits or feeding the lambs, and many farms offer other activities such as tractor riding, strawberry picking or maize mazes; a perfect day out for the holidays or at the weekend.

4. Watch a film at the cinema
Normally a visit to the cinema can leave you reeling from the cost, but during the summer holidays, many cinemas offer special screenings especially for children where tickets can be available at a hugely reduced cost.
This means that taking your children to see a movie with some popcorn will be a real treat (and affordable!) This idea is especially good to have up your sleeve for those inevitable rainy days!

5. Explore the community
Is there anything going on in your local community? Sometimes there can be a local festival, county fair or free event going on around your area without you even knowing, so it is always worth a check.
Many charities run local fundraising events that are both fun and for a good cause. Remember to pick up tourist brochures or check social media and local newspapers for things that are going on.

6. Get baking
Baking is cost-effective, fun and everyone can enjoy the endeavours of the effort put in. Cupcakes are easy and who doesn't like any cake with a chocolate topping!

7. Make a den
Dens have real magic for children. In the garden or in the lounge, clothes airers, chairs and blankets are the perfect props for the best den in town. Torches for when it gets dark and their favourite snacks put the perfect touches to the ultimate adventure!

8. Participate in free sports
The summer is full of free activities and classes that children can take, you just have to know where to look. It's true, keep your eye on your local sports clubs where you can treat your children to football, tennis and hockey coaching, swimming and cycling sessions, runs and much more, and it's all free for you!

9. Discover history with free museums
Perfect for those rainy days are free museums! Mix up the summer holidays with a visit to the national history or science museum and explore the exhibitions with your children.
Don't forget your local museums too, they will often offer activities such as brass rubbing, creative crafts and treasure trails, Not only will they find a lot of the activities fun, but they will also learn something new too!

10. Get near some water
'Messing about on the river' is so apt!. If the beach is too far, most of us will have a river or canal on our doorstep. A walk by the river will reveal some fantastic wildlife and watching and waving to the boats going by is great fun!
Most towns and cities have many unexplored canal routes and watching the boats go through the locks is fascinating!

11. Take part in free store activities
During the summer holidays, many stores offer free activities at certain times of the day for children. Hobbycraft, Pets at Home and Lego are great at this and always have free workshops for youngsters that will develop many skills and are so much fun.

12. Check out your local library.
Your local library is another great source of free activities for kids. Yes, fostering a habit for reading is great, but they also do a wide range of free activities and sessions for kids, so get down there and check them out!

Now go for it!
So, what are you waiting for? These are incredibly fun and mostly free activities for you to do with your children for the remainder of the holidays!
Enjoy!

---