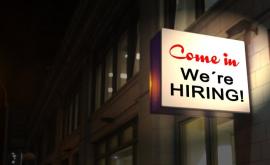 With the jobs market as competitive as ever you'd want to do everything you can to attract the best people (and dissuade those who are not) and for large companies it can be a challenge with volume applications to ensure they are still attracting the best but still engaging others who may not be suitable just yet.
If you have ever had the experience of applying to one of the telecoms companies, you know it's no piece of cake. Often, you have to complete many steps and sign up to their system before you can even submit an application.
Unlike many UK firms, telecoms companies tend not to accept CVs by way of application. That means that you need to start from the beginning and fill out all your details from scratch. For many, this extra step is enough to put them off. When you're searching for a job, you might think that you don't want to waste your time filling out too many forms. No, many would favor sending out lots of CVs to many different companies.
There is no doubt that the user experience could use some improvement so we asked some of our candidate community to road test 5 of biggest Telecoms operators in the UK as a candidate. Let's take a look at each of the major firms, how their system works and what their experience was like.
Three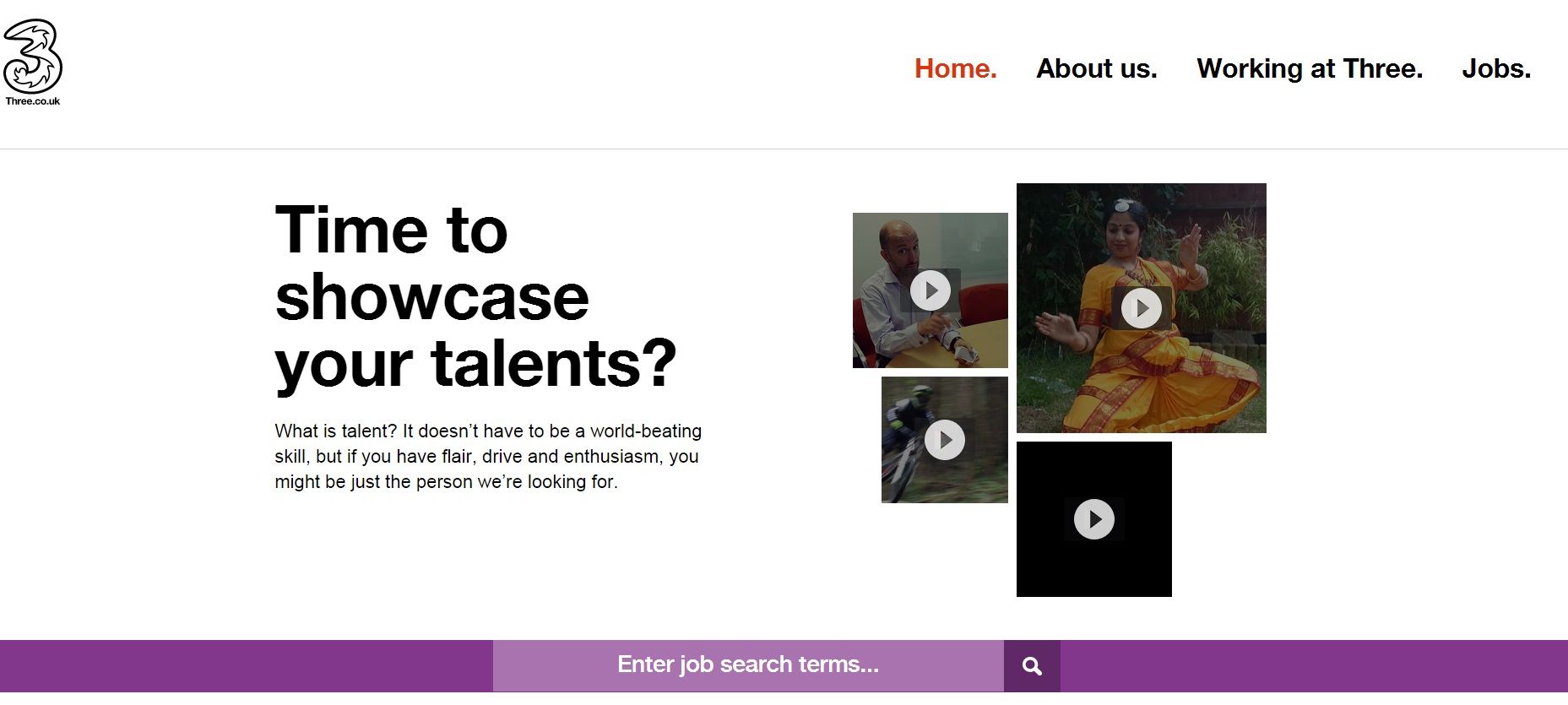 First of all, it's worth noting that when you Google 'Three' and 'jobs,' their page comes up right away. Once you click on their careers page, it's not obvious what you need to do next. There is quite a lot of text, but not much of the information is helpful. The company are keen to tell you what an excellent experience you'll get when you work for them. They also want you to know how their offices look and all the extra benefits they offer. In case you're wondering, they offer career development, bonuses and, of course, discounts.

It takes a while to realise that there are many different pages to the careers site. First, you can click on the 'Working at Three' tab. You might expect that this page would explain all you need to know about applying for positions. Well, it doesn't. Instead, it continues in the same vein as the first page, telling you how brilliant the company is. It also gives you an array of reasons about why you should apply.
Next, you can click on the 'Jobs' page. It is here that you finally find what you're looking for and get some info. Here, there are many different sub-sections, from marketing to digital. If you click on one of the buttons, it tells you a little about that sector. Scroll down, and you finally get to see some jobs posts. You can click on any of these posts to get a job description. When you click 'Apply now' it asks you to login or register as a new user. When you do the later, you have to fill out an ongoing form that doesn't tell you when it's going to be complete. Many users could find this irritating. The good news is that once you've done it once, the site will save your info for next time.
O2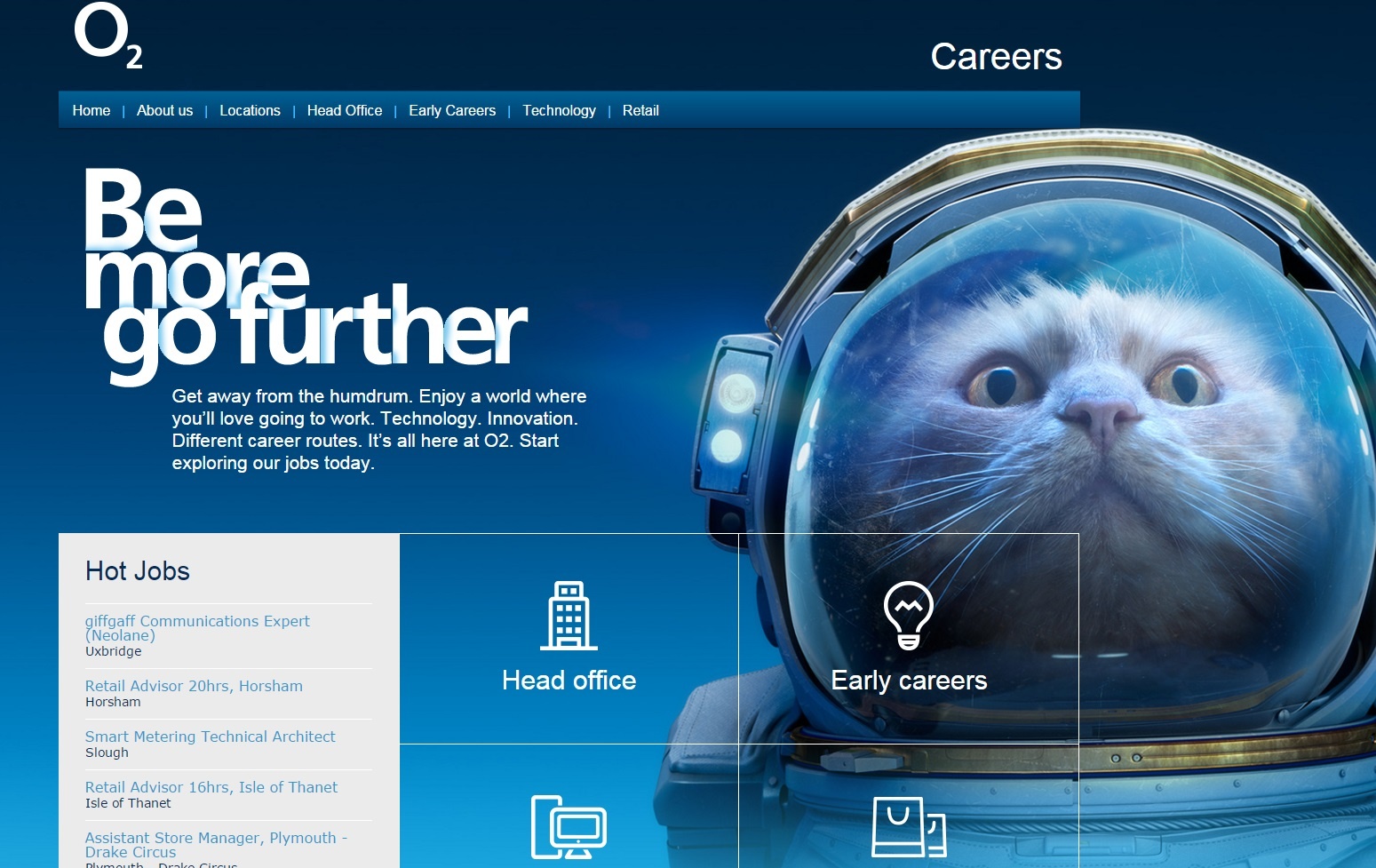 When you search for jobs at O2, you go to the Telefonica (O2's mother company) careers page. Unlike the Three page, this has just one central place where all the information is. At the top of the site, there are some buttons with different sectors on them. Just below that, you will find the same information that was on the Three pages. The company are keen to tell you how incredible they are and why you ought to work for them.
Navigating this is not as easy as you might imagine. There seem to be many different tabs and a lack of function. Once you have clicked one of the sector buttons, you will get a lot of information about that area. Below that, you will find that you have a few options for possible roles. For example, if you click 'Retail stores,' you can choose from three buttons. There is 'Retail Gurus,' 'Retail Advisors' and 'Retail Store Management.' There is also an 'Other Opportunities' button. Once you choose one of those titles, you get a lengthy description of the role and a simple 'Apply now' button. It seems a little odd that the button appears without you knowing whether there are vacancies or not.
Once you choose to apply for a particular role, you go to a page with the header 'Application Wizard.' Here, you have to fill out a lengthy form, which may or may not timeout. There is no doubt that O2 could improve the functionality of this process.
Virgin Media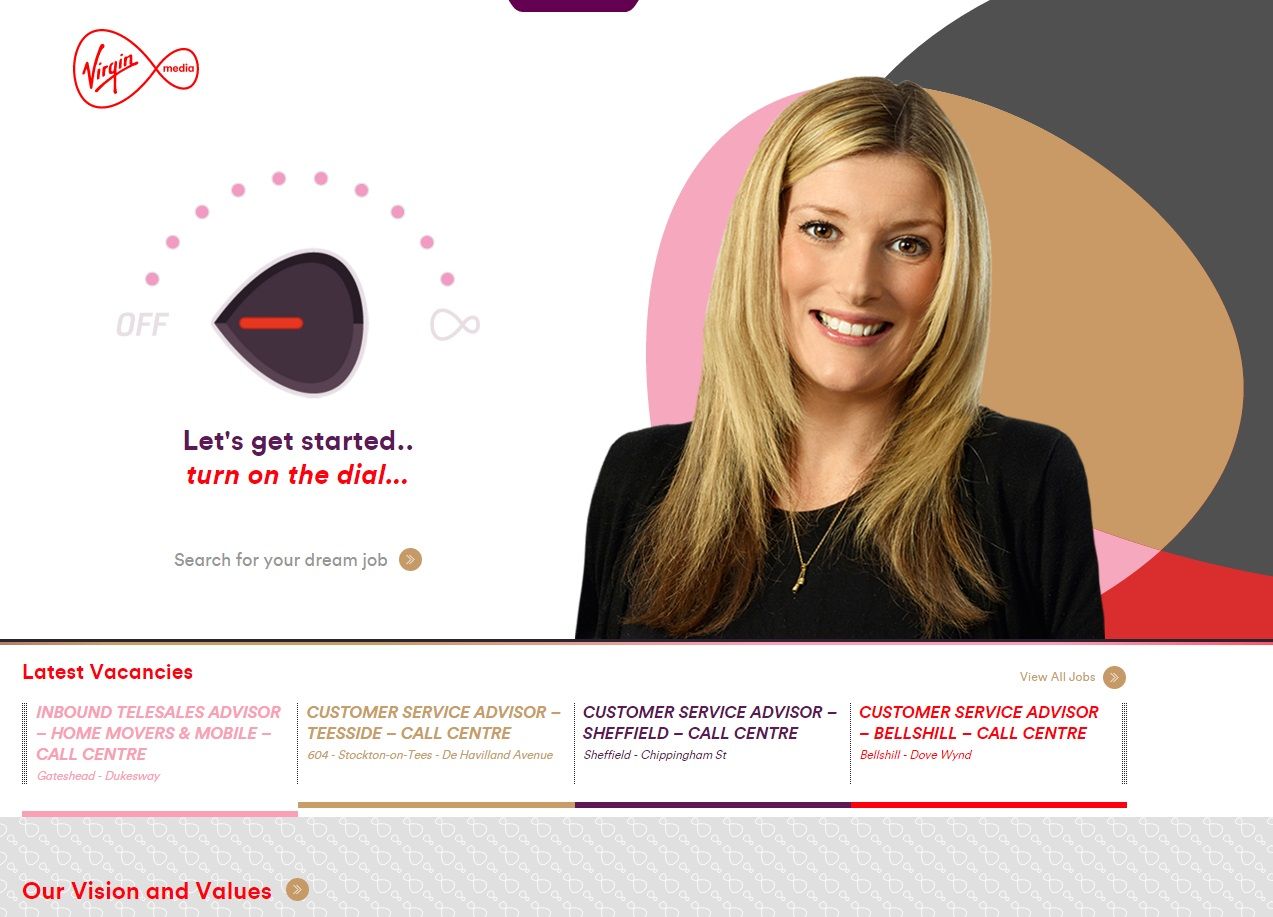 Again, when you Google 'Virgin Media jobs,' it takes just a few seconds to get to the careers page. The first thing you find on the site is a stock photo of a smiling woman and a dial. Beneath the picture, there are the words 'Turn the dial.' Trying to drag the dial is a mistake - what the message means is 'click the button.' Then, the question of 'What makes Virgin Media people game changers?' Beneath that, the company answers the question they pose and give four qualities. While this part of the site is novel, it is irrelevant.
You should ignore the main text and scroll down. There, you can find a scrolling bar of latest job vacancies. When you click on a particular role, you go to a page with a description and salary advice. You can either choose to 'Send to a friend' (a rather useful function) or 'Apply now.' Click the apply button and it will take you to the login page. Of course, it is likely that most users will not have applied for roles at Virgin before now. That means that they have to complete an initial registry form. After giving your information to the company, you have to complete a questionnaire. You then have to answer lots of questions about your background and whether you have worked for the firm. All in all, it might take a new user about an hour and a half to complete this form.
http://careers.virginmedia.com/
Vodafone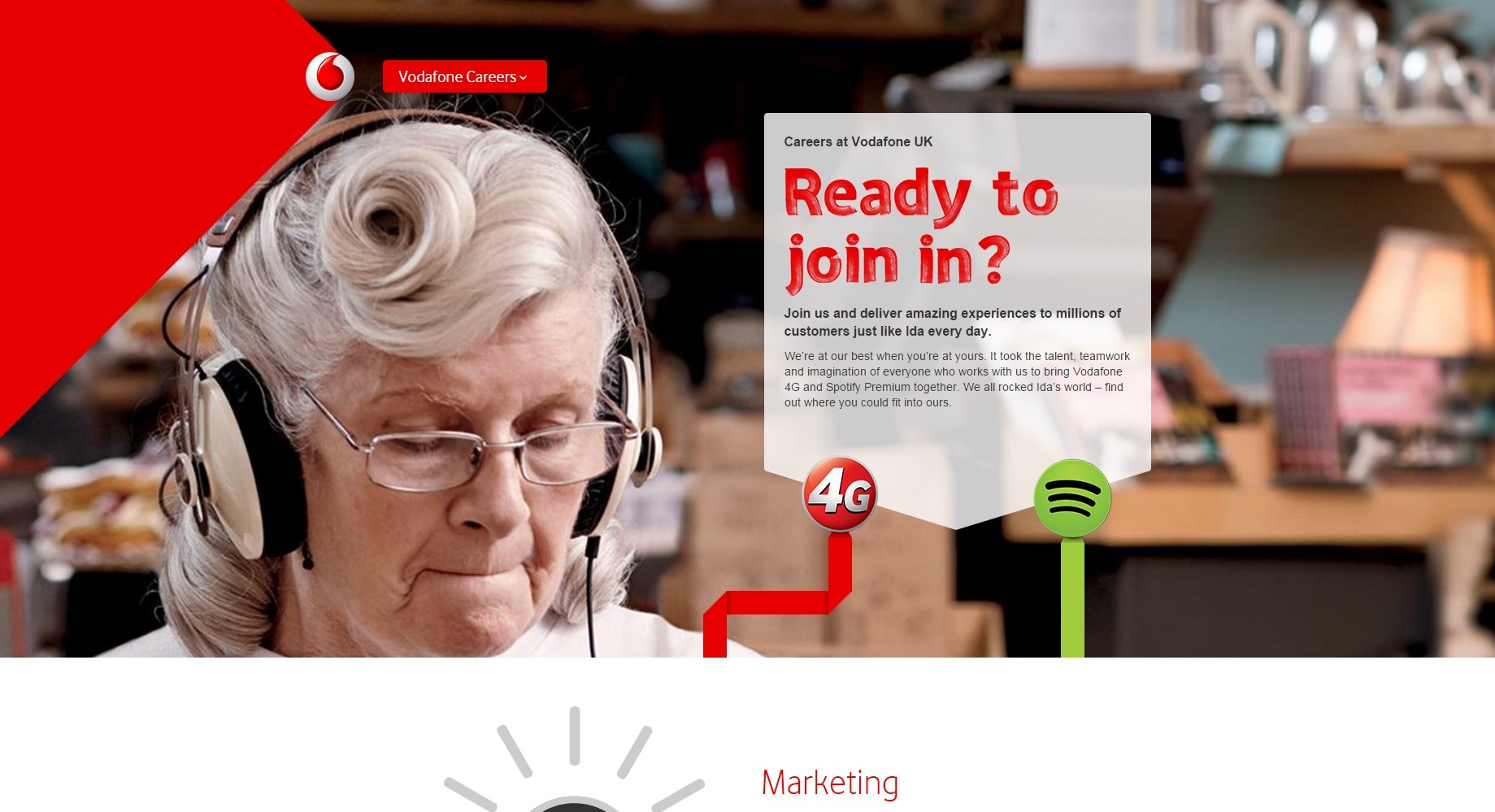 When you first search for Vodafone jobs, you will pull up their 'Job Search' page. This page is easier to use than the other sites on this list. There are two search bars at the top of the site. You can decide what type of career you want and what location suits you. Once you press 'search,' the site will bring up all the jobs that fall under your criteria. There is no lengthy description of the Vodafone ethos or why you should work there. In fact, this system works well if you are a new user.
When you find a role that suits you, you have to press the apply button next to the brief. There, you will have all the information you need to complete your application. First, you have to complete a privacy agreement. Once you have agreed to that, you can either login or make a new profile. The site lets you use your Google+ account to login, but you still have to fill out forms when you use this function.
The process of completing your application is quite long. Again, there is no sign of how long the forms will take, and so users can't be sure that they have the time to complete them. Once you have completed your new user registration, you will also need to answer some things. You will need to fill out long answers about your job history and education. Of course, it would be easier to upload your CV than to fill out these forms.
www.careers.vodafone.co.uk/home
EE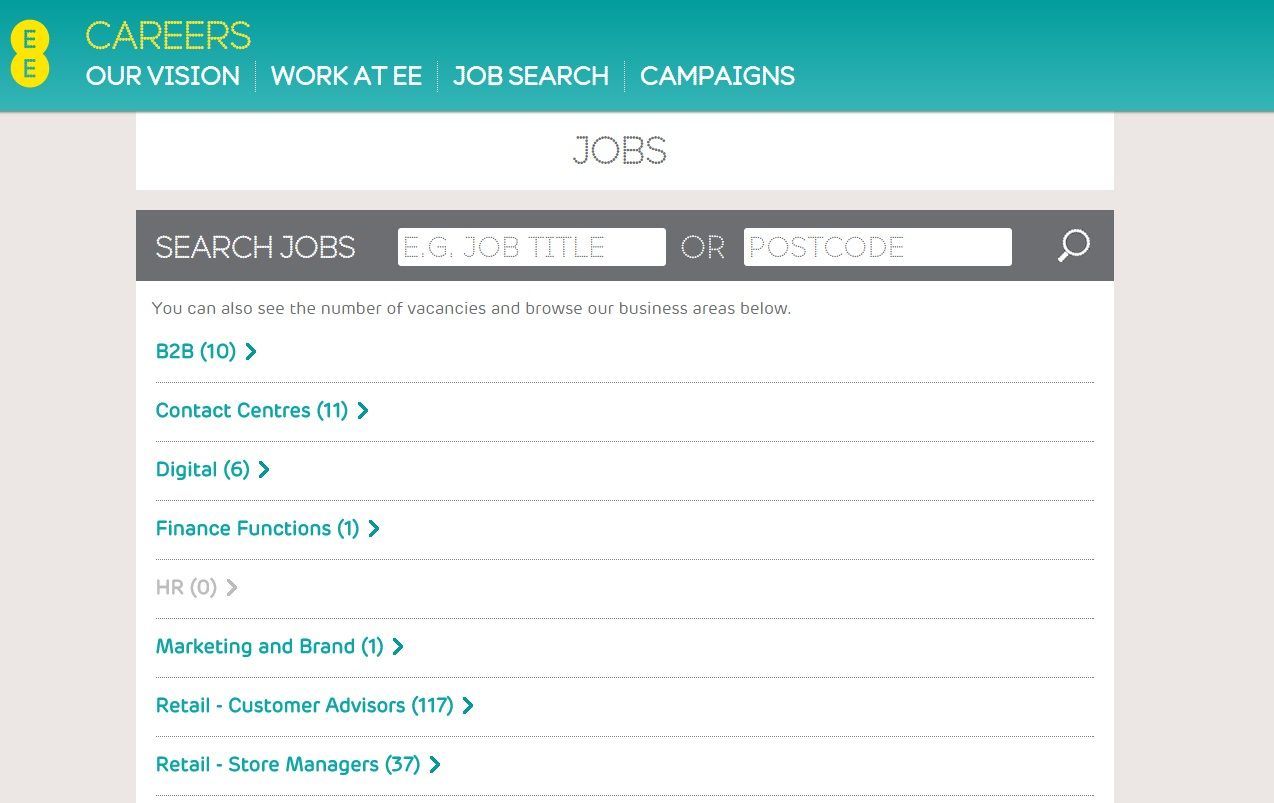 The first page of the EE Jobs site is an informal, information page. Again, this company wants to tell you all about themselves before you even see if they have vacancies. Scroll down, and you can see a small list of the latest jobs. If one of the vacancies appeals to you, you can click on it to get some information about it. On the particular post page, you will find a massive description of the role. Next, you need to click the apply button. First, the company warns you that, should you be successful, they will do a history check. You have to say whether you are happy with this feature.
The main problem with this site is the fact that you have no idea how long the process will take. There are many questions on the page before you get to fill out the main form. It would be no surprise if users chose to give up before getting to the main application. Before you can apply, they also ask for your NI number. Once you get through this long and tiresome process, you can fill out the forms to apply for your chosen role. All in all, the EE site is difficult to use and confusing to applicants. The company needs to change its page's functionality before it loses many candidates.
Conclusion
The leading telecom operators job pages in the UK could do with some improvement. While many users will persevere when they are job hunting, there has to be a level of functionality. Each of these sites is difficult to use, and it is too time-consuming to fill out an application and there is a lack of network building opportunity of the candidate community.

Source: Vine 8
---