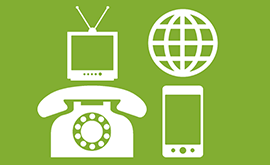 There has been a huge number of mergers and acquisitions in the European telecoms market recently. It seems that all the major players in the market are striving to offer 'quad-play' services in a bid to attract and retain customers by offering cheap deals for service 'bundles'. With the telecoms market expanding into new and exciting areas, how far can bundling go in the future and what will it mean for the telecoms industry?
Last week saw the news that Telefónica in Spain had launched a 'quintuple-play' service offering mobile, broadband, TV, fixed line telephone and home security system managed through a mobile app. While I doubt there will be a rush from telecoms companies to start offering home security in their bundled services, it does raise a question about 'quintuple-play' – Which services will be taken up by telecoms companies and added to their bundled offerings?
With most new technology now being 'connected', it makes sense that customers would look to pay for and manage these connections through their existing telecommunications provider(s).As it is, quad-play is clearly a priority for most major telecoms companies in Europe and technologies such as the Internet of Things, wearables, driverless cars and virtual reality are bound to find their way into bundled services eventually.
As these new areas develop, we will no doubt outgrow the "quintuple-play", "septuple-play" and "dodeca-play" nomenclature and instead just accept 'bundling' as a catch all phrase. It is how companies manoeuvre themselves to manage the increasing number of services they offer which will differentiate telecoms companies in the future. With so many different services it will be difficult to offer a finite number of bundles to customers. Instead I expect there will be a more flexible approach to service offerings and billing to allow customers to tailor their bundles to their specific needs.
A more flexible approach to billing and customer management will no doubt require a great deal of work behind the scenes at telecoms companies that are looking to break into this potentially lucrative market. As companies move to implement their new quad-play services, they would be foolish to ignore the possibility of having to include more services into their offerings in future. We fully expect that most forward thinking companies are already considering which new technologies and services will add value for their customers and how they will integrate them into their back office systems and include them in their current bundled offerings.
There is clearly an appetite for bundled services. This is mainly due to the fact it gives customers the ability to manage all these services from one place and reduce costs. We expect to see bundled offerings to continue to grow but to diversify massively as they do so. The test for telecoms companies is finding a way of making the most of this growth while adding value for customers. Failure to do so may lead to losing customers to smaller more niche offerings elsewhere.
Source: Vine 9
---