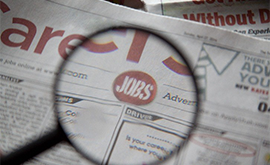 With sites like Glassdoor and LinkedIn continuing to grow in popularity, more and more people are declaring the death of recruitment consultants and the recruitment industry as a whole. While there is no denying that the recruitment industry has changed immeasurably over the past ten years, it is still going very strong and working with a recruitment consultancy still offers a great deal to candidates looking to change roles.
1. Recruitment consultants have access to jobs that aren't on the open market
LinkedIn, Glassdoor and large job boards are great for finding entry and lower level roles. When you are looking for more senior or niche roles however you may find it difficult to find anything suitable. Working with a recruitment consultant, especially one that specialises in your area, gives you access to roles that may not be available anywhere else. Large corporations that are hiring for senior roles rarely advertise these roles on LinkedIn or jobs boards preferring to use trusted recruitment partners instead.
2. You can be first through the door
If you apply through a company's website or via a job board, by the time you are aware of the position and have applied, the role has probably been live for at least a few days and in some cases as much as a month. The relationships that recruitment consultants have with their clients means that they are often made aware of positions before they are advertised (if they are advertised at all). This means that your CV can be one of the first they see and reduces the risk of them filling the position before they have had a chance to meet you.
3. Gain access to a recruiter's experience and expertise
Recruitment consultants know a lot more than just how to create a good application and write a good CV. You can find that information anywhere on the web. The real value of a recruitment consultant is that they know exactly what the company is looking for and how the recruitment process for that specific company works. This means that they are perfectly placed to help you prepare for the interview, ensure that you cover off all the pertinent information in your application and give you the best chance of success.
4. They can help you with expert industry knowledge and careers advice
If you are working with a specialist recruitment consultant, it is more than likely that they have an in-depth understanding of the market that they operate in and that they have a good idea of how the industry is set to develop. This means that they can suggest career options that you may not have considered and give you advice on how best to develop your career to reach your long term career goals.
5. They can negotiate better deals for you and will fight your corner
Everybody wants a good deal when they take a new job. The advantage of using a recruitment consultant to negotiate your remuneration package rather than doing it yourself is that they know how much the company has paid in the past, how much they initially budgeted for the position and how desperate they are to fill the role. All of this gives recruiters a much stronger bargaining position and ensures you get the best possible deal.
6. They know what you're worth
In addition to knowing what a company wants to pay for your services, recruiters know how much other companies would be willing to pay. This is advantageous for two reasons: Firstly it helps negotiate a good deal for you when you join a new company. Secondly it means that they can give you advice and guidance on how much your skills and experience could be worth at a different company.
7. They can sell you into your perfect role
Many recruitment consultants do more than just fill roles. They are often able to leverage their relationships with the companies that they work with to get your CV in front of the right people even if they're not actively hiring at the moment. This means that if you are senior enough and have the right skills and experience, you could land a job with your dream company even when they're not hiring.
Source: Vine 10
---