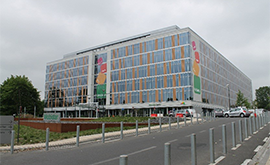 The Belgian telecommunications market has seen a great deal of change over the past decade and has often been a blueprint for market trends and activity across the global telecommunications market. For this reason I thought I'd take a look at the most recent changes to the Belgian marketplace, what they mean for telecoms in Belgium and what it might mean for European and global telecommunications in the future.
The History
Belgacom was created as an autonomous public sector company in 1991 and at the time was the only telephony company in the country. In 1994 the company embarked on a joint venture with Air Touch to create Proximus, the country's first mobile network. Belgacom and Proximus held a monopoly over the mobile market until the introduction of Mobistar in 1998.
There have been a number of changes to the Belgian marketplace since 1998 including the arrival and departure of a number of different companies and, in September 2014, Proximus becoming the commercial brand of all Belgacom products. With 50% + 1 of the shares in Belgacom, the Belgian government remains the majority shareholder of the telecoms giant. However the days of a government monopoly are long gone and the Belgian telecoms industry is now more competitive than ever.
Flash forward to today...
Belgium currently has three major telecoms companies; Proximus, Telenet and Mobistar. Proximus remains the country's largest company with Mobistar in second and Telenet in third. However, these rankings may soon be set to change. In April it was announced that Telenet would be buying the mobile operator Base from KPN for €1.325.
This acquisition was bad news for Mobistar because, while Telenet already offered quad-play services to its customers, its lack of mobile network meant that they were forced to offer mobile services as an MVNO on Mobistar's network. The purchase of BASE means that Telenet will no longer need Mobistar, which will be a massive loss of revenue for the Belgian number two. While Telenet are expected to honour their current deal (which doesn't expire until 2017) it has left Mobistar scrambling to find a new revenue stream to fill this approaching loss.
It's not all bad news for Mobistar though as last week a court of appeal upheld the findings of the Belgian regulator that the country's cable companies must give wholesale access to their broadband and TV services. While Mobistar are still awaiting final clarification of the wholesale prices, as soon as they receive this clarification, they are expected to launch their own TV and broadband services. This will allow them to offer quad-play services to their customers without being held to ransom by cable companies for the use of their networks.
Despite the announcement, Mobistar (the Orange owned subsidiary) still have a lot of ground to catch up on Telenet and Belgacom as they are a mobile operator only although currently trialing fixed broadband and TV services. They will need to move quickly to implement their offer of quad-play services to customers to try and maintain and grow their market share in this increasingly competitive market.
What it means for the global telecoms market
The situation in Belgium with the regulator calling for cable companies to give wholesale access to their networks, is very similar to a number of markets across the EU and beyond. UK regulator Ofcom recently announced proposals to allow competitors wholesale access to BT's network of fibre-optic cables. Where the Belgium market goes from here may act as a bellwether for the UK market and beyond and give telecoms companies an idea of how to make the most of these changes to telecoms regulation.
Source: Vine 10
---